Star Trek and Fleetwood Mac
With the release of the new Star Trek reboot I have been re-watching some of the Star Trek series. "Star Trek: The Next Generation", "Star Trek: Deep Space Nine" and now onto "Star Trek: Voyager". All of these shows are great, but now that I have total recall of TNG and DS9 I noticed something I'd like to share. Hint, it has to do with the title. 🙂

Mick Fleetwood
As most of you may know. Mick Fleetwood, co-founder, drummer and the "Fleetwood" in "Fleetwood Mac" was a huge fan of the original series and the next generation. He was such a fan that he asked to be a guest star in an episode. It worked out that on Star Trek: The Next Generation Mick Fleetwood stared as an Antedean dignitary in the second season's episode "Manhunt". The Antedean are a race of fish like humanoids with large eyes.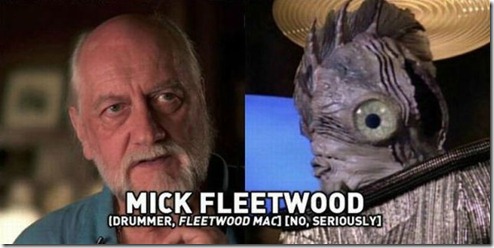 Mick Fleetwood enjoyed being this character and still speaks highly of this experience.
Star Trek: Deep Space Nine
Deep Space Nine is the 3rd series in the Star Trek saga and started in the 6th season of The Next Gen and was over shadowed by the start of Voyager. If you loved the Next Gen and never watched Deep Space Nine I highly recommend going to hulu or netflix and watching the series. DS9 introduces more aliens from the gamma quadrant. Among them are the Jem'Hadar, the Founders, and the Vorta. Without giving anything away from the series (no spoilers here). The Vorta become a reoccurring race and, one character "Weyoun", played by Jeffery Combs, is the main Vorta in the show.
Weyoun
Weyoun is played masterfully by Jeffery Combs and he stands as a great character in the Star Trek universe. However, while watching Weyoun I could not get the gnawing feeling out of my head that he looked very familiar. Where had I seen that look before? The jaw line, the ears, the eyes, the forehead, and OH MY GOD, THE HAIR! Such an unmistakeable image. Maybe I had just watched so much trek that I was merging characters in my head? Then I started thinking about Mick Fleetwood and all of a sudden it hit me. That HAIR I've seen many times. Lindsey Buckingham.
Lindsey Buckingham
Lindsey Buckingham, for those who don't like "Rock N' Roll" music, is the lead guitarist for Fleetwood Mac, as well as the main antagonist in most Stevie Nick's songs about lousy experiences with love. I know, most of you are thinking, it's a stretch to compare Weyoun with Lindsey Buckingham. That is why I simply put two pictures side by side, nothing photo-shopped just a side by side comparison. I will let the internet be the judge. Weyoun is modeled after Lindsey Buckingham. Or, in pure Star Trek time paradox Style, is Lindsey Buckingham modeled after Weyoun :)??